3D print online anywhere; elevate your 3D printing experience from your computer or phone, with smart features like filament manager, livestream, print queue, and much more. Simple, beautiful, smart.
Connect your printer to the SimplyPrint cloud in minutes
Installing SimplyPrint on your Raspberry Pi instantly elevates your 3D printing experience. You will get full control of your printer from anywhere in the world.
Manage multiple printers from one unified panel
Start, stop, pause and monitor your prints from anywhere (see webcam, estimated finish, current print %)
Use a slicer that knows your printer, and what filament is in use
Manage your filament from the filament management system
Bring your 3D files with you anywhere, in your personal, secure file storage
Queue the prints you can't wait to print!
And much more…
Read more about SimplyPrint and its features on https://simplyprint.io/
SimplyPrint installation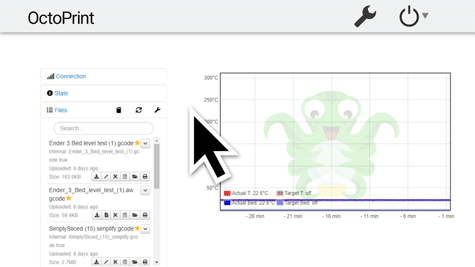 Install the SimplyPrint Cloud plugin
Follow the instruction that appears after install (finish install on the SimplyPrint website)
You're done in less than 2 minutes!
Companion app
Bring your printer with you in your pocket, at all times, using our Android or iOS app.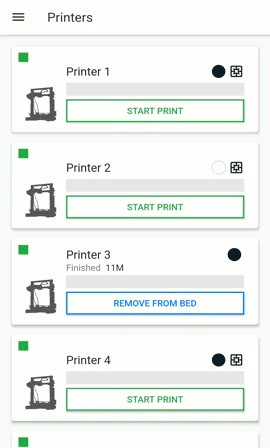 Does it cost anything?
We have a free plan called "Basic", which will remain free forever. This plan includes the use of 2 printers connected to the cloud, accessible even when you're not home.
For those who want a little more out of their 3D printer, we have two subscription plans with features like; smart filament changing, smart-rotation in slicer, up to 1 FPS webcam stream, SMS notifications, statistics, print queue & much more
See the full list of features that our different subscription plans have on the SimplyPrint website.
Future plans for SimplyPrint
We have a lot of stuff planned for the near future, we're still in beta, so this is just the beginning! Check out our public roadmap at; https://simplyprint.io/roadmap
---
How does SimplyPrint change OctoPrint?
To enhance the user experience as much as possible, SimplyPrint takes control of two core OctoPrint features;
GCODE scripts

If you use the "GCODE scripts" feature, the "cancel", "pause" and "resume" GCODE scripts will be syncronized to SimplyPrint and stored in our "GCODE profiles" system. So they won't disappear, you'll just have to modify them via the SimplyPrint platform instead.

Printer profiles

When you select which printer you have in SimplyPrint, we know what its details are (print volume, nozzle, etc.), and you can modify it as much as you want. We automatically create a printer profile with all the details your printer has in SimplyPrint, and set it as your default profile. Your old profile(s) will not be removed :)

That's it! You can use OctoPrint just like before. There's even a "Go to OctoPrint" button on your printer, that takes you to OctoPrint when you're on the same network as your Pi. When you're out, SimplyPrint has got your back!
Questions, comments or want to join the community?
We have a live chat support on our website (open 5 hours all week days, in our local timezone, GMT+1, sorry, we're just 3 guys on the project, living in Denmark :)). You can also always send us an email at contact@simplyprint.io
Also, come hang out with us in our Facebook group! A strong community is important to us, and we always listen to suggestions (and often implement them), we and usually fix problems lighning fast ;)
Pictures